Friday May 27, 2022
40 Watt Comedy Night
Hosted by
Joe Pettis
(Adult Swim)
Featuring
Carter Deems (MTV's Wild "N Out)
Lauren Knight (TMZ)
The MANDAL MAN (Waffle House)
+ a special guest or two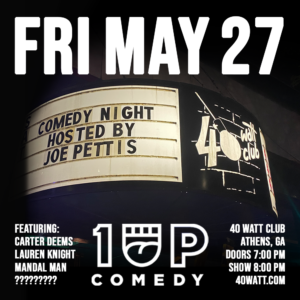 June 6, 2022
Kristin Hersh
(0f Throwing Muses)
With Support from Fred Abong (of Throwing Muses)
DOORS: 8:00PM
TICKETS: $20
June 14, 2022
Fred Armisen's Comedy For Musicians But Everyone is Welcome
Def Rain
DOORS: 8:00PM
TICKETS: $30 advance // $35 day of show
AthFest!
Tickets On Sale Now!!
Friday June 24, 2022
Modern Skirts
Night Palace
Palace Doctor
DOORS: 9:00PM SHOW: 10:00PM
Saturday June 25, 2022
Maserati
Pylon Reenactment Society
The Woggles
DOORS: 9:00PM SHOW: 10:00PM
VIP Tickets Available!
Includes AthFest T-shirt, VIP seating at the show (for night purchased), and access to outdoor VIP area. Limited Availability.
Follow links above for more information.
July 9, 2022
P'Tree Entertainment Presents:
Jobe Fortner
Tickets On Sale Now!!
DOORS: 8:00PM
$18 in advance // $22 day of show
July 22, 2022
Kimberly Morgan York Album Release!
Hosted By Raven LaWrath and Her Country Queens
Special Guest Claire Campbell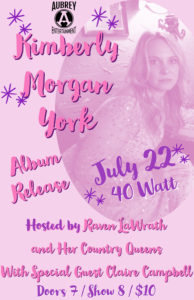 July 30, 2022
Elf Power
Album Release Show!
with special guests:
Nihilist Cheerleader
&
E.R. Jurken
October 21, 2022
SALES
DOORS: 7:00PM
TICKETS: $24 in Advance // $27 at the Door
November 10, 2022
Robyn Hitchcock
TICKETS ON SALE NOW!
DOORS: 8:00PM
TICKETS: $21
40 Watt Club is one of the most famous and iconic rock clubs in the world. Represent your favorite venue and get some merch today!